More info on http://lemote.kd85.com/ Contact wim@kd85.com +32 478 21 73 55
Key points: 64 bit MIPS CPU & open source BIOS (actually it's pmon)

Lemote has announced a new model, the Yeeloong 8133 Loongson 3A Notebook. It's based on the new Loongson 3A CPU, which integrates four 1 GHz GS464 CPU cores.

For further specs, check out this PDF

I have currently no ETA or exact price, but email me and I'll send you the information when it becomes available

2013 Update: I will not carry the 3A variant as there is a binary blob to make the video work For more info check http://teknohog.godsong.org/hardware/naga/

Latest feedback I got from the factory: "For the material stock problem, the Yeeloong 8133 has to delay the release date, which would be at May."

I've been sent this update, end of August: "Sorry to inform a bad news, Yeeloong 8133 notebook would be postponed for material stock problem."

Lemote had planned a group buy, but for the Chinese market, I estimate the final price would have come to about EUR 650 (without VAT).

The only info available is: http://www.loongson.cn/EN/product_info.php?id=35
and http://www.lemote.com/products/computer/yilong/312.html
http://www.chinaz.com/mobile/2012/0807/267648_all.shtml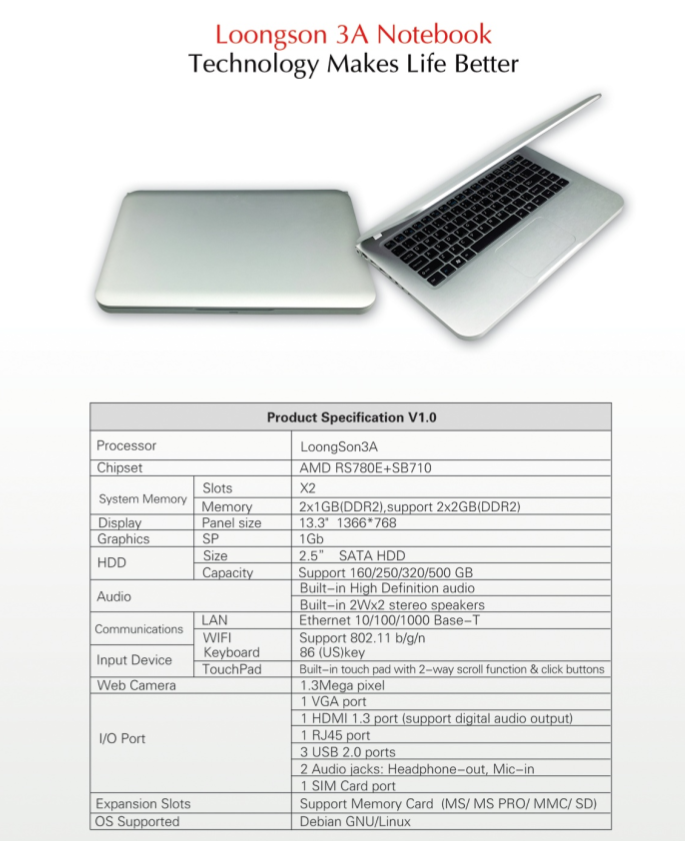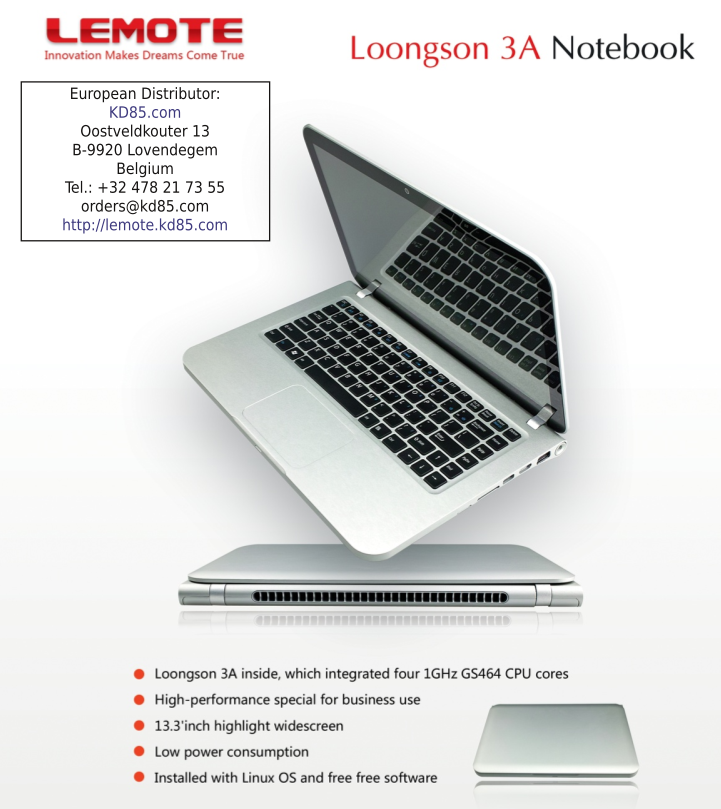 YeeLoong8089 Notebook
Main Features
1)The world's first laptop which contains completely free software. All system source files(BIOS, kernel, drivers etc.) are free, no close firmware needed.

2)High performance. Tests show that our platform gets the best performance for 7"-9"ultra mobile laptops.

3)Low power. Peak power ~12Watt for SSD version.

4)Low cost. We provide a very competitive price.

5)High quality. This product is designed and produced by Quanta Computer, the top notebook OEM factory.

6)Rich expandablity: optional HDD/wifi/camera, internal USB connector for expansion of GPS/Bluetooth etc.

Components
Spec
notes
CPU
64 bit MIPS STLS 2F(Loongson 2F) 800MHz, with integrated DDR2 controller and PCI controller
Chipset

Northbridge: integrated in CPU
Southbridge: AMD CS5536
Graphics: SMI712
Network: Rtl8139 + RTL8187B(wifi)
Camera: 300K pixel
CardReader: Realtek RTS5158E

Memory
SO-DIMM DDR2
512MB/1GB
optional
Storage
160GB 2.5' HDD or 2GB/8GB SSD
optional
Panel
8.9" TFT LCD
1024x600
Extension
USB wifi
optional
Interfaces
USB2.0x3, earphone+ MIC, SDx1,   RJ45x1, VGAx1, DC-inx1
Power
<12Watt
12V 3.5A DC Adapter
Enclosure
PC+ABS+IMR A/C
Size
25.5x18.8x2.5cm
Keyboard
80key 23.8cm
Weight
~1Kg
Exclude external parts
OS
Debian GNU/Linux + Lemote Education suites
Others includes: Mandriva, Sunwah, Slackware, Gentoo etc.